Hello, all. Emily here. It's been nearly a year and a half since our last post. It's 5 o'clock in the morning, and Betty Garrett passed away yesterday morning. You know what that means.
TRIBUTE POST.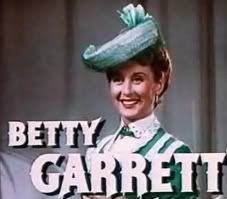 First, you should know that I don't make tribute posts about just anyone. That was apparent when the deaths of Rue McClanahan and Dixie Carter, two ridiculously important staples of my childhood and adult life, went unnoticed on this blog last year. Perhaps if I had the patience and brainpower to run a blog properly (and, you know, remember that said blog exists) everyone and their mother would be commemorated in my written word, but that's just not the case. It just so happens that I was feeling a tad nostalgic for the days of my blog, and... Betty Garrett has passed. So there's going to be a post about her.
Betty has been an important part of my life for many years. 13 years ago - way back in 1998 - I became a devout fan of Laverne & Shirley. Throughout my preteen years, Betty Garrett continued to amuse and amaze as I discovered the films she made at MGM and discovered more about her incredible career. I'm not going to say that Betty Garrett could walk on water, but she probably could have
if she wanted to
. Her portrayal of Edna Babish will always be the closest to my heart - I have Laverne & Shirley marathons several times a week, because apparently 178 episodes are enough to sustain a 13-year-long obsession. Her unique voice, kooky sense of humor, and song & dance have entertained audiences of the stage and screen for years, and I know her talent will live on through her films and of course, my favorite of her characters: Mrs. Babish.
More posts will be coming soon, hopefully. There have been more celebrity run-ins, concerts/shows/performances, ridiculous happenings, DVD releases, and even a Judy Garland Festival that haven't been covered yet. So sorry for abandoning you lovelies!